Products


Allure Glow┬« provides the benefit of no-energy cost photo luminescent technology in two broad categories – Raw materials for manufacturers, and finished glow-in-the-dark products for end-users, resellers and distributors.
AllureGlow® Ink Brochure
Ink Brochure (will open in a new window)
AllureGlow® Household Items
AllureGlow® household products are manufactured using AG Series pigments and master batch. They combine a range of imaginative consumer products which are highly practical useful tools to enhance our day to day lives. They operate without the need for electrical power yet illuminate in the dark.
Glow in the Dark House Numbers
Glow Domes
Glow in the Dark Fence Post Caps
Glow in the Dark Tent Pegs
Glow in the Dark Tiles
Glow Signs and Custom Signage
Light switch surrounds
Luggage and key tags
Safety Fittings - See more
AllureGlow® products are made using unique pigments and master batches that demonstrate optimum life saving photo luminescent performance. 100% reliable, the product range includes retro-fit Stair Nosing, Handrails, Skirting, Ribbons, Tapes, Ropes, paints and Signs designed and manufactured to ensure ultimate safety 24 hours a day 7 days a week. AllureGlow® Safety Fittings are manufactured to stringent specifications and comply with many standards including ISO, Australian and New Zealand, ASTM, UL, IMO and others. The series products provide the benefit of no-energy cost effective photo luminescent technology and work by absorbing and storing energy from ambient and fluorescent lighting systems.
AllureGlow® Safety Fittings provide glow in the dark guidance during power failures and in emergency situations. Our technology is now widely accepted for many reasons:
Visible instantly in black-out and emergency situations
No external power source required
100% reliable - always
Affordable
Retro fixable
Simple and cost efficient application
| | | |
| --- | --- | --- |
| Wall Skirting | Hand Railing | Corner Capping |
| | | |
| Stair Treads | Commercial Stair Treads | Industrial Stair Treads |
AllureGlow® Luminous Evacuation Signage - See more
AllureGlow® Signs are manufactured using unique pigments and offer benefits beyond standard evacuation and fire control signage. Produced on metal, Allure Glow Signs are functionally sound and extremely sturdy. The range of luminous signage produces an effective means of emergency guidance both in light and dark conditions without the need for electrical power and meet all the necessary ISO standards. AllureGlow® evacuation signage is made to suit and meet the requirements of many authiorities around the world. The signs utilize the internationally recognised running man symbol which is being adopted globally.
Utilises specialised pigment
Absorbs and stores light energy ie ambient, fluorescent and mercury vapour
Illuminates immediately in black out and emergency conditions
Assists people to evacuate quickly and efficiently
Complies to international DIN standards
Does not require electricity
Does not require special wiring
Does not require professional installation
Non toxic
| | | |
| --- | --- | --- |
| Exit Signs | Fire Signs | Evacuation Plan |
| | | |
| | Road & Rail Signs | |
AllureGlow® Luminous Paints & Line Markings - See more
All AllureGlow® glow-in-the-dark paint products are manufactured using AllureGlow®'s specialist pigments and processes.
AllureGlow® paint has been used to "light up" fire escape walls, artistic murals, fabrics, path ways and machinery to mention a few of many applications.
| | | |
| --- | --- | --- |
| Craft Paints | Line Marking | Epoxy Coatings |
AllureGlow® Luminous PVC Film & Tapes - See more
AllureGlow® PVC vinyl films and tapes provide an opportunity to quickly produce glowing results with very little time or effort. These films and tapes are manufactured to offer the highest degree of luminance over a consistent span.
| | | |
| --- | --- | --- |
| Safety Ribbon | Vinyl Film Tape | Vinyl Sheet |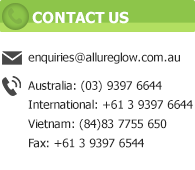 Safety Fittings - detail
Wall Skirting

Hand Railing

Stair Treads

Commercial Treads

Industrial Treads

Tiles

Light Switch Markers

Glow domes & markers
Signage - detail
Evacuation Signs

Customised signs

Evacuation plan kits

Other signs
Paints, inks & dyes - detail
Craft & Novelty Paints

Line marking paint

Industrial water based paint

Body Paint

UV
PVC Film & Tapes - detail
Plastic Ribbon tape

Vinyl Film Tape

Vinyl Film Sheet & rolls
Rigid sheets - detail
PMMA - resin board

Aluminium sheet / panels

Plastic sheet / board
Photoluminescent pigment & powder - detail
Strontium aluminate

Zinc Sulphide

Specialty glow pigment / sand
UV inks and pigments - detail
UV365nm inorganic powder

UV365nm organic powder

UV254nm inorganic powder

UV254nm organic powder

UV fluorescent dye

UV tracer contrates

UV fluorescent black light paint

UV inkjet ink

Infrared powder

Security ink
Glow Master batch - detail
Fabric & Material - detail
Reflective / glow tape

Fabric material / Nomex tape
Novelty Items - detail
Key & Luggage Tags

Toilet Seats

Glow Rocks

Glow pebbles

Glow yarn

Glow rope

Star picket caps

Tent pegs
OEM services - detail