Photoluminescent Evacuation Signage
Allureglow® have a standard range of photoluminescent / glow in the dark signs available. Customised signs onto Aluminium, PVC, vinyl and other substrates also available. Standard signs include running man exit signs, fire hose and fire extinguisher, first aid and directional arrows. Allureglow® can also produce customised braille and tactile signs to suit your specific requirements.
AllureGlow® Signs are manufactured using unique pigments and offer benefits beyond standard evacuation and fire control signage. Produced on metal, AllureGlow® Signs are functionally sound and extremely sturdy. The range of luminous signage produces an effective means of emergency guidance both in light and dark conditions without the need for electrical power and meet all the necessary ISO standards. AllureGlow® evacuation signage is made to suit and meet the requirements of many authorities around the world. The signs utilize the internationally recognised running man symbol which is being adopted globally.
• Utilises specialised pigment
• Absorbs and stores light energy ie ambient, fluorescent and mercury vapour
• Illuminates immediately in black out and emergency conditions
• Assists people to evacuate quickly and efficiently
• Complies to international DIN standards
• Does not require electricity
• Does not require special wiring
• Does not require professional installation
• Non toxic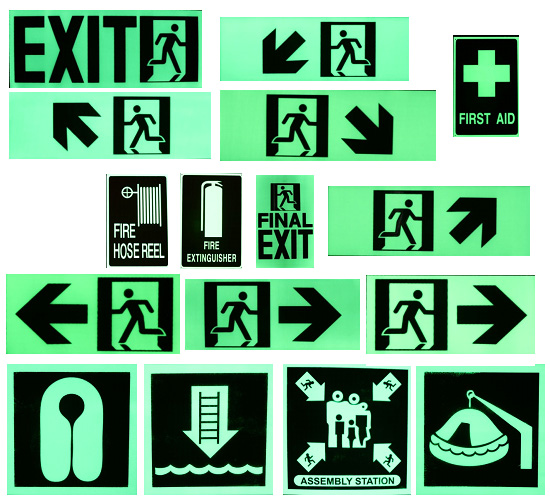 Photoluminescent Evacuation Plan kit
Create your own A3 or A4 evacuation plan using your office laser jet printer.
Each kit comes with an aluminium snap frame and is quick and simple to make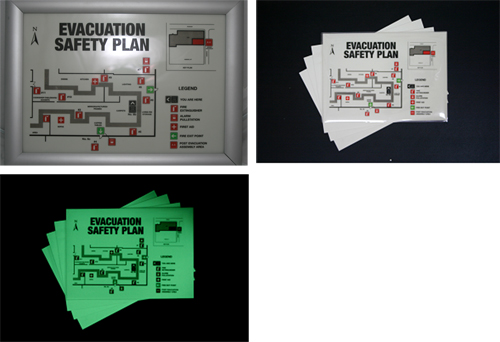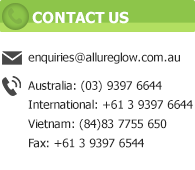 Safety Fittings - detail
Wall Skirting

Hand Railing

Stair Treads

Commercial Treads

Industrial Treads

Tiles

Light Switch Markers

Glow domes & markers
Signage - detail
Evacuation Signs

Customised signs

Evacuation plan kits

Other signs
Paints, inks & dyes - detail
Craft & Novelty Paints

Line marking paint

Industrial water based paint

Body Paint

UV
PVC Film & Tapes - detail
Plastic Ribbon tape

Vinyl Film Tape

Vinyl Film Sheet & rolls
Rigid sheets - detail
PMMA - resin board

Aluminium sheet / panels

Plastic sheet / board
Photoluminescent pigment & powder - detail
Strontium aluminate

Zinc Sulphide

Specialty glow pigment / sand
UV inks and pigments - detail
UV365nm inorganic powder

UV365nm organic powder

UV254nm inorganic powder

UV254nm organic powder

UV fluorescent dye

UV tracer contrates

UV fluorescent black light paint

UV inkjet ink

Infrared powder

Security ink
Glow Master batch - detail
Fabric & Material - detail
Reflective / glow tape

Fabric material / Nomex tape
Novelty Items - detail
Key & Luggage Tags

Toilet Seats

Glow Rocks

Glow pebbles

Glow yarn

Glow rope

Star picket caps

Tent pegs
OEM services - detail
Other Skycore web sites include: www.virostop.com.au , www.virostop.com , www.potatank.com.au , www.potatank.com , www.wholesaleabsorbents.com , www.absorbentsdirect.com.au , www.wholesaleabsorbents.com.au , www.nushine.com.au , www.vikansystems.com , www.vikansystems.com.au , www.spilfyter.com.au , www.spillproducts.com.au , www.industrialabsorbents.com.au , www.spillabsorbents.com.au , www.commissionagents.com.au , www.commissionagent.com.au , www.skycore.com.au , www.theskycoregroup.com , www.theskycoregroup.com.au , www.skycore.com.vn , www.skycore.vn , www.skycoreasia.com , www.friendsthatclick.com , www.friendsthatclick.com.au , www.friendship-groups.com , www.partiesworldwide.com , www.social-friendship.com , www.world-celebrations.com , www.internationalsocialgroup.com , www.party-worldwide.com , www.international-celebrations.com , www.zorbe.com.au , www.petlitter.com.au , www.allure.net.au , www.alluresafety.com , www.alluresafety.com.au , www.spillfix.com.au , www.absorbentsaustralia.com.au , www.allureglow.com.au , www.visionglow.com.au , www.nile8.com.au , www.zudeco.com , www.zudeco.com.au , www.wholesalegardenfurniture.com.au , www.spillvac.com.au , www.ultimate-websites.com , www.bestwebsitedevelopment.com.au , www.websites-vietnam.com , www.thietkewebvietnam.com.vn , www.ctytaoweb.com.vn , www.skycorevietnam.com , www.websitedevelopment.vn , www.websitedevelopment.com.vn , www.worldwide-websites.com.au , www.ultimate-websites.com.au , www.world-wide-web.com.au , www.vietnamaustraliatrading.com , www.vietnamwholesale.vn , www.sourcingvietnam.com.vn , www.wholesalevietnam.vn , www.australiavietnamtrading.com , www.sourcingvietnam.vn , www.australiavietnamsourcing.com , www.vietnamsourcing.com.vn , www.vietnamaustraliasourcing.com , www.wholesalevietnam.com.vn , www.vietnamwholesale.com.vn , www.permawet.com , www.permawet.com.au , www.soil-wetter.com , www.international-wedding.com , www.vietnam-realestate.com.vn , www.realestate-vietnam.vn , www.vietnam-batdongsan.com , www.vietnampropertyforsale.com , www.realestate-vietnam.com.vn , www.batdongsan-vietnam.com.vn , www.vietnambatdongsan.com.vn , www.vietnam-realestate.vn , www.muaban-batdongsan.com.vn , www.batdongsan-vietnam.com.vn , www.worldwide-wedding-planner.com , www.worldwide-wedding-directory.com , www.overseas-weddings.com , www.international-wedding.com , www.church-for-sale.com.au , www.wholesalepots.com.au , www.vietnambuyandsell.com , www.vietnamtradingpost.com , www.muavaban-vietnam.com.vn , www.forsalevietnam.vn , www.muaban-vietnam.com , www.vietnamtradingpost.vn , www.mua-va-ban.com.vn , www.for-sale-vietnam.com , www.vietnamtradingpost.com.vn , www.muavanban-vietnam.vn , www.vietnamforsale.vn , www.mua-va-ban.vn , www.buyandsellvietnam.com , www.muaban-vietnam.vn , www.mua-va-ban.com , www.muaban-vietnam.com , www.muaban-vietnam.com , www.forsale-vietnam.com , www.vinbrant.com , www.vinbrant.com.au, www.potsvietnam.com, www.vietnamtradingpost.com, realestate1.vn, realestate1vietnam.com , needthisdomain.com, www.sportsclothingmanufacture.com, www.clothing-manufacture.com, Indoor Pots Perth, Lawn & Turf Services
Please check out some the other great web sites above. Skycore provides web design and website development services in Australian and Vietnam